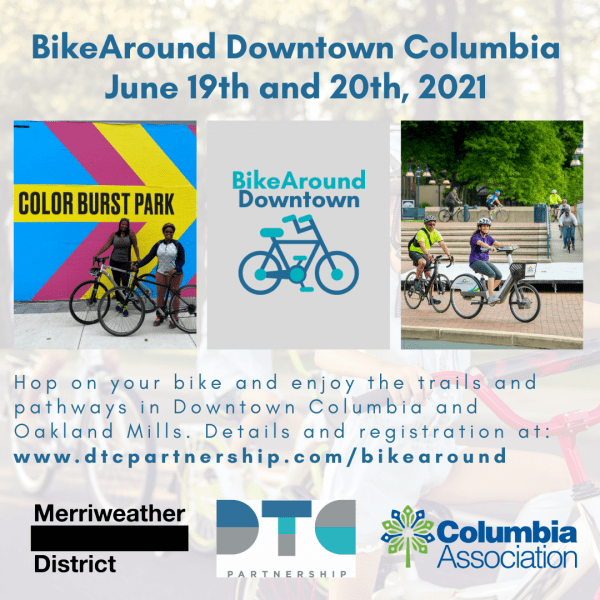 Let's all take an outside break and BikeAround Downtown the weekend of June 19th and 20th. We have created a roughly eight mile course that starts and ends in ColorBurst Park in the new Merriweather District of Downtown, and moves along the paths in Downtown and Oakland Mills. Register today.
BikeAround FAQs:
We're thrilled to have you biking around Downtown Columbia and the surrounding areas. As you ride, please think about how you can make biking a bigger part of your lifestyle – especially for reducing car use.
Getting there: The map below shows parking locations. If using GPS, Google, or Apple maps, enter the address 6100 Merriweather Drive. There are two surface parking lots (located on either side of the Juniper apartment building). Please park there and then begin the course.
The Howard County Office of Transportation has also provided biking directions to Color Burst Park from all Columbia villages as well as other popular locations. Please note that some of these routes include portions on the roadway.
Timing: There is no group start time for BikeAround. The official timing for the event is 9:00 AM to 5:00 PM on both June 19th and 20th. Please start as early or late as you like. And feel free to ride the course more than once.
The Course: The course starts and ends in Color Burst Park. Thanks to the Columbia Association's Open Space team, the path will be marked so you should not need to refer to the turn by turn directions.
BikeAround Block Party
Along with the BikeAround course which is open from 9-5 on both Saturday and Sunday, we're holding a BikeAround Block Party from 11:00 AM – 3:00 PM on Saturday, June 19th. This is a chance to get outside, chat with friends and family, enjoy delicious refreshments, and chat with staff from the partner orgs. Please come and go at your convenience.
Prizes: We'll have shirts available for the first 250 guests who arrive at the rally. We have a broad selection of sizes and fits available on a first come first serve basis. One shirt per person.
Additionally, some of our partner organizations will have fun swag.
If you would like a chance to win some cool prizes, take a photo of you and your group out on the course (or at the rally) and share it on social. Tag the Downtown Columbia Partnership and use the hashtag #BikeAroundDowntown2021.
Have Fun and Stay Safe: Please avoid crowding and wear a mask if you are not fully vaccinated. Be a polite cyclist. Follow the rules of the road and announce yourself as you are passing others. But mostly, have fun and enjoy the wonderful pathways we have in Columbia.
Register and let us know you are riding.
Parking for BikeAround
The two red circles with white Xs mark outdoor parking pads. In addition, there is the large parking garage adjacent to the X on the right.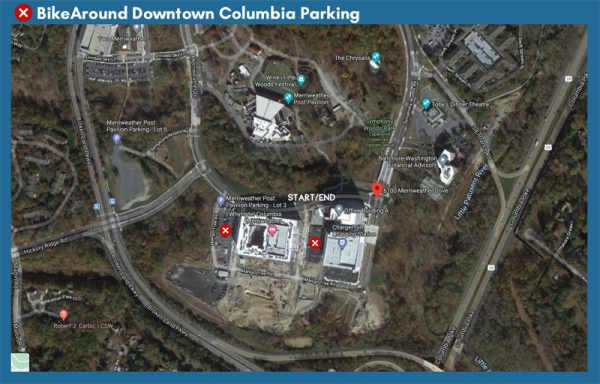 Bike to BikeAround? Here are directions from the various Village Centers.
From Dorsey Search Village Center to BikeAround Event by bike, 3.9 miles:
https://www.google.com/maps/dir/39.2422259,-76.8407749/Mango+Tree+Rd,+Columbia,+MD+21044/@39.220019,-76.8886287,13.27z/data=!4m14!4m13!1m5!3m4!1m2!1d-76.8568185!2d39.2087816!3s0x89b7dfbc76a6d8fb:0x8969e8bdf0d2f6d5!1m5!1m1!1s0x89b7dfa51f28e403:0x134ba6649569985a!2m2!1d-76.8624029!2d39.2057675!3e1!5m1!1e3
From Oakland Mills Village Center to BikeAround Event by bike, 1.5 miles:
https://www.google.com/maps/dir/39.2102624,-76.8466827/39.2059622,-76.8627085/@39.2078678,-76.8602247,1149m/data=!3m1!1e3!4m9!4m8!1m5!3m4!1m2!1d-76.8568754!2d39.2087172!3s0x89b7dfbc76a6d8fb:0x8969e8bdf0d2f6d5!1m0!3e1!5m1!1e3
From Harper's Choice Village Center to BikeAround Event by bike, 2.4 miles:
https://www.google.com/maps/dir/Harper's+Choice+Village+Center,+Columbia,+MD+21044/Mango+Tree+Rd,+Columbia,+MD+21044/@39.2177313,-76.8895183,15.08z/data=!4m14!4m13!1m5!1m1!1s0x89b7df6eab080fb5:0x1ea1fdfd5351db4e!2m2!1d-76.8898283!2d39.2223685!1m5!1m1!1s0x89b7dfa51f28e403:0x134ba6649569985a!2m2!1d-76.8624029!2d39.2057675!3e1!5m1!1e3
From Owen Brown Village Center to BikeAround Event by bike, 3.6 miles:
https://www.google.com/maps/dir/Owen+Brown+Village+Center,+Cradlerock+Way,+Columbia,+MD/Mango+Tree+Rd,+Columbia,+MD+21044/@39.2084764,-76.8653926,16.17z/data=!4m19!4m18!1m10!1m1!1s0x89b7de31444b7ab9:0x89b4dbfbb6350a49!2m2!1d-76.8423767!2d39.1865844!3m4!1m2!1d-76.8568048!2d39.2087971!3s0x89b7dfbc76a6d8fb:0x8969e8bdf0d2f6d5!1m5!1m1!1s0x89b7dfa51f28e403:0x134ba6649569985a!2m2!1d-76.8624029!2d39.2057675!3e1!5m1!1e3
From Hickory Ridge Village Center to BikeAround Event by bike, 2.3 miles:
https://www.google.com/maps/dir/Hickory+Ridge+Village+Center,+Freetown+Road,+Columbia,+MD/Mango+Tree+Rd,+Columbia,+MD+21044/@39.2029674,-76.8849658,14.81z/data=!4m14!4m13!1m5!1m1!1s0x89b7dee2cb1d2dc7:0xf8d960ccf0789754!2m2!1d-76.8830593!2d39.1950303!1m5!1m1!1s0x89b7dfa51f28e403:0x134ba6649569985a!2m2!1d-76.8624029!2d39.2057675!3e1!5m1!1e3
From River Hill Village Center to BikeAround Event by bike, 6.9 miles:
https://www.google.com/maps/dir/River+Hill+Village+Center,+Daybreak+Circle,+Clarksville,+MD/Mango+Tree+Rd,+Columbia,+MD+21044/@39.1848478,-76.9027221,14.63z/data=!4m19!4m18!1m10!1m1!1s0x89b7d8dc9c781f35:0xc05f60cbf7a049d6!2m2!1d-76.936243!2d39.2107052!3m4!1m2!1d-76.8811945!2d39.1867337!3s0x89b7defabcd96c97:0x5fe1eb50afb76330!1m5!1m1!1s0x89b7dfa51f28e403:0x134ba6649569985a!2m2!1d-76.8624029!2d39.2057675!3e1!5m1!1e3
From Kings Contrivance Village Center to BikeAround Event by bike, 3.8 miles:
https://www.google.com/maps/dir/Kings+Contrivance+Village+Center,+Eden+Brook+Drive,+Columbia,+MD/Mango+Tree+Rd,+Columbia,+MD+21044/@39.1923505,-76.8720955,15.17z/data=!4m14!4m13!1m5!1m1!1s0x89b7de66e4dd4585:0xc3333f80f9510c70!2m2!1d-76.865016!2d39.1702009!1m5!1m1!1s0x89b7dfa51f28e403:0x134ba6649569985a!2m2!1d-76.8624029!2d39.2057675!3e1!5m1!1e3
From Columbia Town Center (Vantage Point office) to BikeAround Event by bike, 2.2 miles:
https://www.google.com/maps/dir/5430+Vantage+Point+Rd,+Columbia,+MD+21044/Mango+Tree+Rd,+Columbia,+MD+21044/@39.213372,-76.86471,14.81z/data=!4m24!4m23!1m15!1m1!1s0x89b7df9191677079:0x6eb81213d3c467f7!2m2!1d-76.8558351!2d39.222284!3m4!1m2!1d-76.8530308!2d39.214863!3s0x89b7dfbe1d76173b:0xbba633d54e9ca971!3m4!1m2!1d-76.8568643!2d39.2087298!3s0x89b7dfbc76a6d8fb:0x8969e8bdf0d2f6d5!1m5!1m1!1s0x89b7dfa51f28e403:0x134ba6649569985a!2m2!1d-76.8624029!2d39.2057675!3e1!5m1!1e3
From Long Reach Village Center to BikeAround Event by bike, 3.6 miles:
https://www.google.com/maps/dir/Long+Reach+Village+Center,+8775+Cloudleap+Ct,+Columbia,+MD+21045/Mango+Tree+Rd,+Columbia,+MD+21044/@39.2085304,-76.8529651,15.63z/data=!4m19!4m18!1m10!1m1!1s0x89b7e1d2e74d72ab:0x8cc27c81426cc9fd!2m2!1d-76.815507!2d39.2070384!3m4!1m2!1d-76.8567372!2d39.2088735!3s0x89b7dfbc76a6d8fb:0x8969e8bdf0d2f6d5!1m5!1m1!1s0x89b7dfa51f28e403:0x134ba6649569985a!2m2!1d-76.8624029!2d39.2057675!3e1!5m1!1e3
From Wilde Lake Village Center to BikeAround Event by bike, 1.8 miles:
https://www.google.com/maps/dir/Wilde+Lake+Village+Center+(Southbound),+Columbia,+MD/Mango+Tree+Rd,+Columbia,+MD+21044/@39.2192881,-76.8776353,16.9z/data=!4m24!4m23!1m15!1m1!1s0x89b7df7438be90b3:0x2a217739c20eec9a!2m2!1d-76.875985!2d39.2199!3m4!1m2!1d-76.8760409!2d39.2184943!3s0x89b7df74f61550ed:0x3e6b7ea8ff70e5c4!3m4!1m2!1d-76.8748909!2d39.215302!3s0x89b7df0b285d58e9:0xd63581cfdbeedcc4!1m5!1m1!1s0x89b7dfa51f28e403:0x134ba6649569985a!2m2!1d-76.8624029!2d39.2057675!3e1!5m1!1e3
From Main Street Ellicott City to BikeAround Event by bike, 7.2 miles:
https://www.google.com/maps/dir/Main+Street+Ellicott+City,+Main+Street,+Ellicott+City,+MD/Mango+Tree+Rd,+Columbia,+MD+21044/@39.2625347,-76.8304146,14.5z/data=!4m19!4m18!1m10!1m1!1s0x89c81fa0b10f0025:0xd33e77d1a68ba0f7!2m2!1d-76.7976093!2d39.2674805!3m4!1m2!1d-76.8569139!2d39.2086726!3s0x89b7dfbc76a6d8fb:0x8969e8bdf0d2f6d5!1m5!1m1!1s0x89b7dfa51f28e403:0x134ba6649569985a!2m2!1d-76.8624029!2d39.2057675!3e1!5m1!1e3
From Main Street Elkridge to BikeAround Event, 10.5 miles:
https://www.google.com/maps/dir/39.2161755,-76.7092212/Mango+Tree+Rd,+Columbia,+MD+21044/@39.2100902,-76.8623863,15.79z/data=!4m19!4m18!1m10!3m4!1m2!1d-76.8031041!2d39.2045595!3s0x89b7e041de4eea09:0x22dfb9d480fdc0cd!3m4!1m2!1d-76.85695!2d39.2086253!3s0x89b7dfbc76a6d8fb:0x8969e8bdf0d2f6d5!1m5!1m1!1s0x89b7dfa51f28e403:0x134ba6649569985a!2m2!1d-76.8624029!2d39.2057675!3e1!5m1!1e3
From Historic Savage Mill to BikeAround Event by bike, 7.4 miles:
https://www.google.com/maps/dir/39.1365022,-76.8281763/Mango+Tree+Rd,+Columbia,+MD+21044/@39.2045488,-76.8688921,16.33z/data=!4m14!4m13!1m5!3m4!1m2!1d-76.8284021!2d39.1383503!3s0x89b7ddf784ac7139:0xc9353bca3f694ceb!1m5!1m1!1s0x89b7dfa51f28e403:0x134ba6649569985a!2m2!1d-76.8624029!2d39.2057675!3e1!5m1!1e3