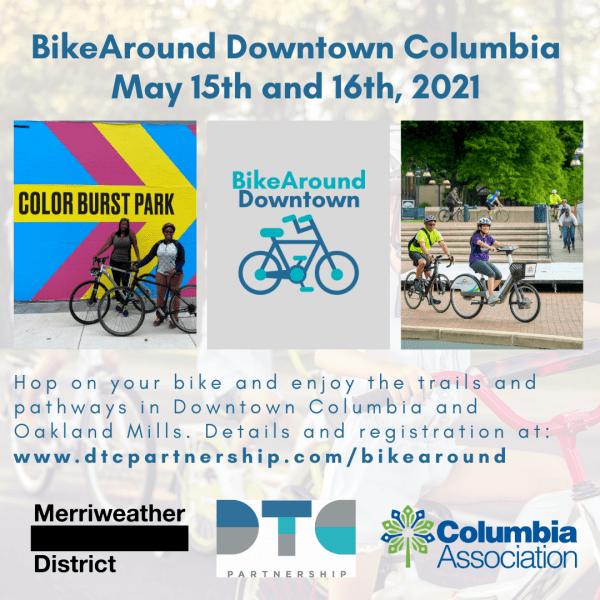 Let's all take an outside break and BikeAround Downtown the weekend of June 19th and 20th. We have created a roughly eight mile course that starts and ends in ColorBurst Park in the new Merriweather District of Downtown, and moves along the paths in Downtown and Oakland Mills. Register today.
Why? Why not, but here are two good reasons:
Let's get outside and enjoy the fantastic bike infrastructure with family (while maintaining social distance from others).
Think about how you can make biking a bigger part of the future of your work and leisure lifestyle and use it in place of your car.
Do we need to be asked twice these days to step away from our screens and get some fresh air, exercise, and a mental break?
Prizes: Of course we'll have prizes. Winners will be selected at random via the registration list and from tagged posted pictures on social media. Details to come.
Don't have a bike or still awaiting arrival of your bike from COVID-related bike shortage? Ride the course on a Howard County BikeShare bike. The Howard County Office of Transportation will be providing comp codes for Howard County BikeShare for the weekend.
Common sense: Wear a helmet. Wear a mask when near riders outside of your bubble. Follow the rules of the road, and be courteous to others. Plan ahead, portions of the route closes at dusk.
Register and let us know you are riding.
Parking for BikeAround
The two red circles with white Xs mark outdoor parking pads. In addition, there is the large parking garage adjacent to the X on the right.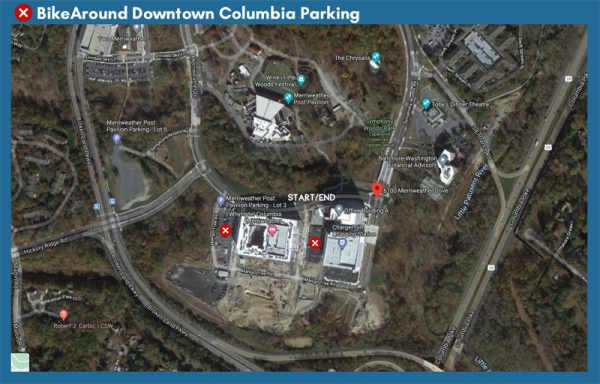 Bike to BikeAround? Here are directions from the various Village Centers.
From Dorsey Search Village Center to BikeAround Event by bike, 3.9 miles:
https://www.google.com/maps/dir/39.2422259,-76.8407749/Mango+Tree+Rd,+Columbia,+MD+21044/@39.220019,-76.8886287,13.27z/data=!4m14!4m13!1m5!3m4!1m2!1d-76.8568185!2d39.2087816!3s0x89b7dfbc76a6d8fb:0x8969e8bdf0d2f6d5!1m5!1m1!1s0x89b7dfa51f28e403:0x134ba6649569985a!2m2!1d-76.8624029!2d39.2057675!3e1!5m1!1e3
From Oakland Mills Village Center to BikeAround Event by bike, 1.5 miles:
https://www.google.com/maps/dir/39.2102624,-76.8466827/39.2059622,-76.8627085/@39.2078678,-76.8602247,1149m/data=!3m1!1e3!4m9!4m8!1m5!3m4!1m2!1d-76.8568754!2d39.2087172!3s0x89b7dfbc76a6d8fb:0x8969e8bdf0d2f6d5!1m0!3e1!5m1!1e3
From Harper's Choice Village Center to BikeAround Event by bike, 2.4 miles:
https://www.google.com/maps/dir/Harper's+Choice+Village+Center,+Columbia,+MD+21044/Mango+Tree+Rd,+Columbia,+MD+21044/@39.2177313,-76.8895183,15.08z/data=!4m14!4m13!1m5!1m1!1s0x89b7df6eab080fb5:0x1ea1fdfd5351db4e!2m2!1d-76.8898283!2d39.2223685!1m5!1m1!1s0x89b7dfa51f28e403:0x134ba6649569985a!2m2!1d-76.8624029!2d39.2057675!3e1!5m1!1e3
From Owen Brown Village Center to BikeAround Event by bike, 3.6 miles:
https://www.google.com/maps/dir/Owen+Brown+Village+Center,+Cradlerock+Way,+Columbia,+MD/Mango+Tree+Rd,+Columbia,+MD+21044/@39.2084764,-76.8653926,16.17z/data=!4m19!4m18!1m10!1m1!1s0x89b7de31444b7ab9:0x89b4dbfbb6350a49!2m2!1d-76.8423767!2d39.1865844!3m4!1m2!1d-76.8568048!2d39.2087971!3s0x89b7dfbc76a6d8fb:0x8969e8bdf0d2f6d5!1m5!1m1!1s0x89b7dfa51f28e403:0x134ba6649569985a!2m2!1d-76.8624029!2d39.2057675!3e1!5m1!1e3
From Hickory Ridge Village Center to BikeAround Event by bike, 2.3 miles:
https://www.google.com/maps/dir/Hickory+Ridge+Village+Center,+Freetown+Road,+Columbia,+MD/Mango+Tree+Rd,+Columbia,+MD+21044/@39.2029674,-76.8849658,14.81z/data=!4m14!4m13!1m5!1m1!1s0x89b7dee2cb1d2dc7:0xf8d960ccf0789754!2m2!1d-76.8830593!2d39.1950303!1m5!1m1!1s0x89b7dfa51f28e403:0x134ba6649569985a!2m2!1d-76.8624029!2d39.2057675!3e1!5m1!1e3
From River Hill Village Center to BikeAround Event by bike, 6.9 miles:
https://www.google.com/maps/dir/River+Hill+Village+Center,+Daybreak+Circle,+Clarksville,+MD/Mango+Tree+Rd,+Columbia,+MD+21044/@39.1848478,-76.9027221,14.63z/data=!4m19!4m18!1m10!1m1!1s0x89b7d8dc9c781f35:0xc05f60cbf7a049d6!2m2!1d-76.936243!2d39.2107052!3m4!1m2!1d-76.8811945!2d39.1867337!3s0x89b7defabcd96c97:0x5fe1eb50afb76330!1m5!1m1!1s0x89b7dfa51f28e403:0x134ba6649569985a!2m2!1d-76.8624029!2d39.2057675!3e1!5m1!1e3
From Kings Contrivance Village Center to BikeAround Event by bike, 3.8 miles:
https://www.google.com/maps/dir/Kings+Contrivance+Village+Center,+Eden+Brook+Drive,+Columbia,+MD/Mango+Tree+Rd,+Columbia,+MD+21044/@39.1923505,-76.8720955,15.17z/data=!4m14!4m13!1m5!1m1!1s0x89b7de66e4dd4585:0xc3333f80f9510c70!2m2!1d-76.865016!2d39.1702009!1m5!1m1!1s0x89b7dfa51f28e403:0x134ba6649569985a!2m2!1d-76.8624029!2d39.2057675!3e1!5m1!1e3
From Columbia Town Center (Vantage Point office) to BikeAround Event by bike, 2.2 miles:
https://www.google.com/maps/dir/5430+Vantage+Point+Rd,+Columbia,+MD+21044/Mango+Tree+Rd,+Columbia,+MD+21044/@39.213372,-76.86471,14.81z/data=!4m24!4m23!1m15!1m1!1s0x89b7df9191677079:0x6eb81213d3c467f7!2m2!1d-76.8558351!2d39.222284!3m4!1m2!1d-76.8530308!2d39.214863!3s0x89b7dfbe1d76173b:0xbba633d54e9ca971!3m4!1m2!1d-76.8568643!2d39.2087298!3s0x89b7dfbc76a6d8fb:0x8969e8bdf0d2f6d5!1m5!1m1!1s0x89b7dfa51f28e403:0x134ba6649569985a!2m2!1d-76.8624029!2d39.2057675!3e1!5m1!1e3
From Long Reach Village Center to BikeAround Event by bike, 3.6 miles:
https://www.google.com/maps/dir/Long+Reach+Village+Center,+8775+Cloudleap+Ct,+Columbia,+MD+21045/Mango+Tree+Rd,+Columbia,+MD+21044/@39.2085304,-76.8529651,15.63z/data=!4m19!4m18!1m10!1m1!1s0x89b7e1d2e74d72ab:0x8cc27c81426cc9fd!2m2!1d-76.815507!2d39.2070384!3m4!1m2!1d-76.8567372!2d39.2088735!3s0x89b7dfbc76a6d8fb:0x8969e8bdf0d2f6d5!1m5!1m1!1s0x89b7dfa51f28e403:0x134ba6649569985a!2m2!1d-76.8624029!2d39.2057675!3e1!5m1!1e3
From Wilde Lake Village Center to BikeAround Event by bike, 1.8 miles:
https://www.google.com/maps/dir/Wilde+Lake+Village+Center+(Southbound),+Columbia,+MD/Mango+Tree+Rd,+Columbia,+MD+21044/@39.2192881,-76.8776353,16.9z/data=!4m24!4m23!1m15!1m1!1s0x89b7df7438be90b3:0x2a217739c20eec9a!2m2!1d-76.875985!2d39.2199!3m4!1m2!1d-76.8760409!2d39.2184943!3s0x89b7df74f61550ed:0x3e6b7ea8ff70e5c4!3m4!1m2!1d-76.8748909!2d39.215302!3s0x89b7df0b285d58e9:0xd63581cfdbeedcc4!1m5!1m1!1s0x89b7dfa51f28e403:0x134ba6649569985a!2m2!1d-76.8624029!2d39.2057675!3e1!5m1!1e3
From Main Street Ellicott City to BikeAround Event by bike, 7.2 miles:
https://www.google.com/maps/dir/Main+Street+Ellicott+City,+Main+Street,+Ellicott+City,+MD/Mango+Tree+Rd,+Columbia,+MD+21044/@39.2625347,-76.8304146,14.5z/data=!4m19!4m18!1m10!1m1!1s0x89c81fa0b10f0025:0xd33e77d1a68ba0f7!2m2!1d-76.7976093!2d39.2674805!3m4!1m2!1d-76.8569139!2d39.2086726!3s0x89b7dfbc76a6d8fb:0x8969e8bdf0d2f6d5!1m5!1m1!1s0x89b7dfa51f28e403:0x134ba6649569985a!2m2!1d-76.8624029!2d39.2057675!3e1!5m1!1e3
From Main Street Elkridge to BikeAround Event, 10.5 miles:
https://www.google.com/maps/dir/39.2161755,-76.7092212/Mango+Tree+Rd,+Columbia,+MD+21044/@39.2100902,-76.8623863,15.79z/data=!4m19!4m18!1m10!3m4!1m2!1d-76.8031041!2d39.2045595!3s0x89b7e041de4eea09:0x22dfb9d480fdc0cd!3m4!1m2!1d-76.85695!2d39.2086253!3s0x89b7dfbc76a6d8fb:0x8969e8bdf0d2f6d5!1m5!1m1!1s0x89b7dfa51f28e403:0x134ba6649569985a!2m2!1d-76.8624029!2d39.2057675!3e1!5m1!1e3
From Historic Savage Mill to BikeAround Event by bike, 7.4 miles:
https://www.google.com/maps/dir/39.1365022,-76.8281763/Mango+Tree+Rd,+Columbia,+MD+21044/@39.2045488,-76.8688921,16.33z/data=!4m14!4m13!1m5!3m4!1m2!1d-76.8284021!2d39.1383503!3s0x89b7ddf784ac7139:0xc9353bca3f694ceb!1m5!1m1!1s0x89b7dfa51f28e403:0x134ba6649569985a!2m2!1d-76.8624029!2d39.2057675!3e1!5m1!1e3